Our pasta is made from the finest ingredients; fresh whole eggs, Alberta grown semolina and fillings made from real ingredients. Our pasta pockets are filled to the brim and enveloped in thin silky pasta which is soft and delicate and easily absorbs any sauce.

Each bite will melt in your mouth! Our products are sold in various configurations both for home and for food service entities.

Our retail packs are for the home user who wants to save time in making the rolls but wants to cook it the old-fashioned way and, include their signature to the meal, by adding sauce and garnish.

Our foods service packs are for the commercial user who wishes to plate elegantly with their signature sauces and garnishes.

Wholesale: one case includes – 2 x 2.5 kg
Retail: one case includes – 10 x 500g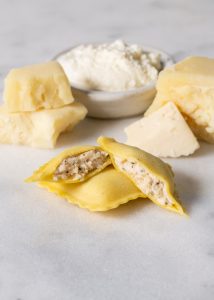 Each bite is a rich and creamy mouthful of our signature four-cheese blend. Enough to make any cheese lover go weak at the knees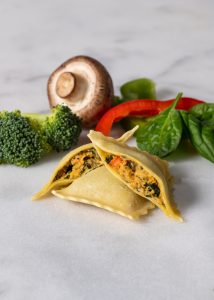 Roasted Vegetable Ravioli
Pasta Primavera gets a facelift! You'll love this blend of perfectly roasted peppers, mushrooms, spinach and broccoli. Pares well with tomato or cream sauces.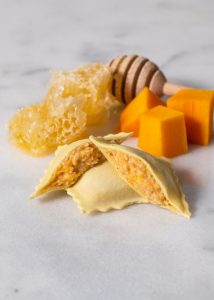 Honey Roasted Butternut Squash Ravioli
Butternut squash, widely considered to be everybody's favourite vegetable, becomes even more delicious when we roast it in sticky-sweet honey. Pair with fresh feta or a creamy sauce.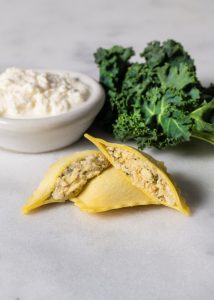 Even kids will gobble down kale as long as it is paired with the subtle sweetness of ricotta cheese! Serve with a rich tomato sauce and fresh herbs for a bold taste experience.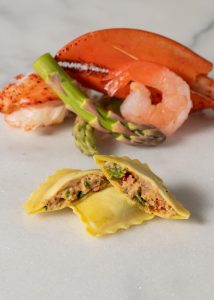 Seafood and Asparagus Ravioli
All of your seafood favourites combined in one delicious pocket! We fill our famous ravioli to the brim with ocean-fresh shrimp, lobster and crab. Fragrant asparagus adds an earthy balance to the mix.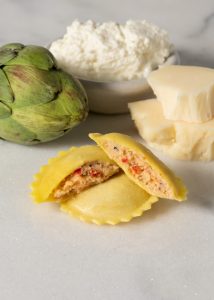 Artichoke and Cheese Ravioli
The next best thing to your grandma's famous artichoke and cheese dip, this tasty combo strikes the perfect balance between rich and earthy flavours.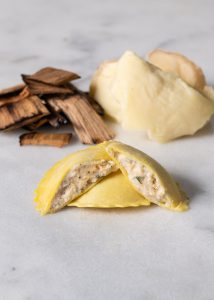 Smoked Mozzarella Ravioli
Go on a taste adventure with our combination of smooth ricotta cheese and deliciously smoky mozzarella. This one is bound to be the showstopper at your next dinner party!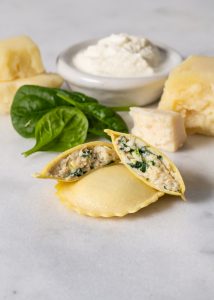 Cheese and Spinach Ravioli
A combination as timeless as peanut butter and jam, our Cheese and Spinach Ravioli is sure to become a family favourite from the first time you serve it.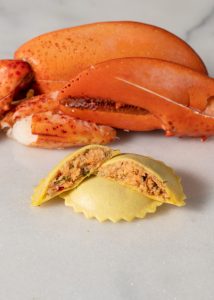 When you want to spoil yourself or someone special, our luscious Lobster filling is the way to go. Pair it with our ultra-creamy alfredo sauce for extra decadence.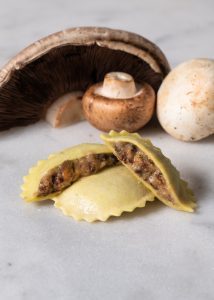 Mushrooms are always a good idea! Packed with umami flavour and brilliantly versatile, mushrooms lend themselves to every kind of sauce. We like ours with a classic tomato and basil pairing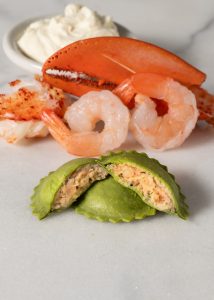 Crab, Shrimp and Mascarpone Cheese Ravioli
Buttery, nutty mascarpone meets bold seafood flavours in this flavourful little pocket. Serve with an ice-cold glass of dry white wine to enhance the experience.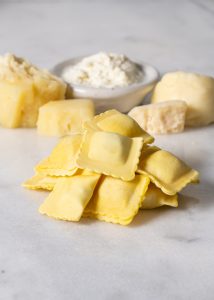 How did we fit all this big cheese flavour into such a small pocket? That is our secret. What is no secret is that Five Cheese Ravioli is guaranteed to be a hit with everyone at your dinner table.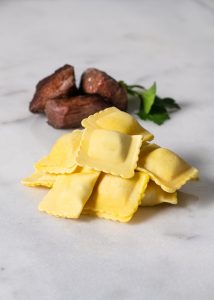 A bite-size version of the well-known classic, our Beef Ravioli is stuffed with deliciously seasoned beef and our secret blend of spices. Pairs beautifully with Bolognese sauce and a full-bodied red wine.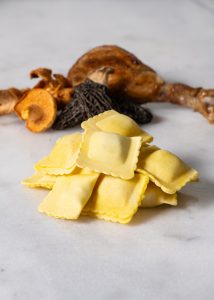 Wild Mushroom and Chicken Ravioli
Savoury chicken meets delicately fragrant wild mushrooms in this grown-up version of the classic chicken-and-mushroom combo. Pair it with a herby green sauce to complement the flavour.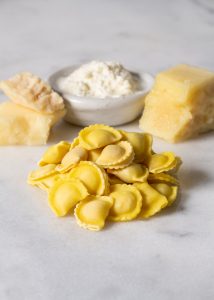 Small pocket, big cheese flavour! Our dainty Mini Four Cheese Ravioli pockets are bursting at the seams with all the rich cheesy goodness you crave.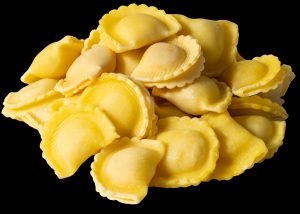 These mighty meaty morsels are the perfect size for soups! Ditch the dumplings and zhoosh up your next pot of soup with big beef flavour in a bitesize pocket.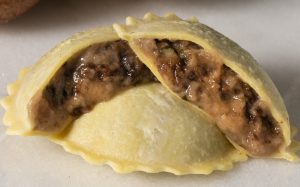 Roasted Red Pepper and Tofu Ricotta Ravioli
Sweet red peppers roasted to perfection meet their match in creamy ricotta tofu. It's a vegetarian taste experience so satisfying you won't even miss the meat!
Plant Based Spicy Italian Sausage Ravioli
Plant-based, but craving something rich and meaty? Try this unique ravioli, filled with premium quality plant-based Italian sausage. All of the spicy flavour, 100% derived from plants.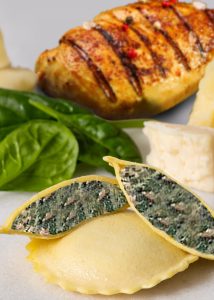 Chicken Mozzarella and Spinach Ravioli
Juicy chicken breast, earthy spinach and subtle mozzarella flavours combine to create this crowd-pleaser ravioli. Made with only the finest raw ingredients and no artificial fillers for your utmost enjoyment.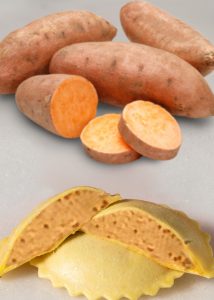 The ultimate comfort food, our tender pockets of expertly roasted sweet potato filling match well with autumnal flavours and rich, cheesy sauces.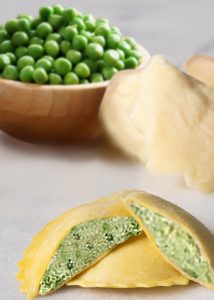 Spring Pea and Parmesan Ravioli
Pay homage to the freshness of spring with our seasonal Spring Pea and Parmesan Ravioli. No extra fillers, just real ingredients, and real flavour – that's our promise to you!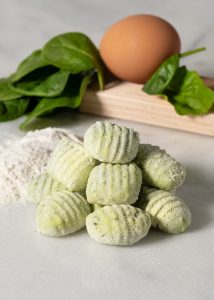 Comfort food at its best. Our Spinach Potato Gnocchi pairs well with garlicky tomato sauces and lashings of parmesan cheese.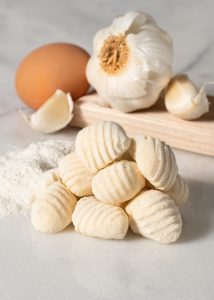 These doughy little dumplings pack a distinctive garlicky punch. Pair them with a creamy cheese sauce for extra wow factor.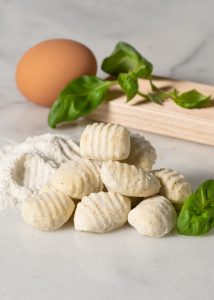 Unapologetically herby, our Basil Potato Gnocchi is the perfect way to elevate your midweek dinner. Parmesan cheese is a must with this one!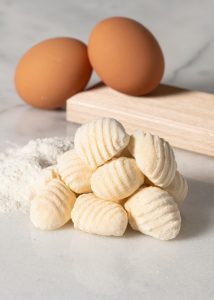 Sometimes you just can't beat a classic. Our plain Potato Gnocchi is tender, lightly seasoned and endlessly versatile. Pair it with any sauce you like because this one goes with everything.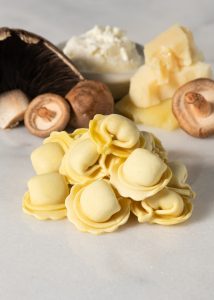 Wild Mushroom and Cheese Tortellini
Our signature cheese blend meets big umami flavour in these deftly shaped spirals. We like to serve ours in a broth but they are just as tasty on their own.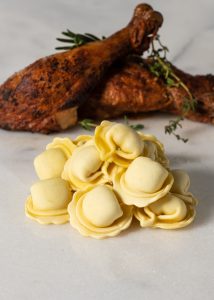 Take a walk on the wild side with our spicy Cajun Chicken Tortellini. Turn up the heat by pairing it with a spicy arrabiata sauce, or calm it down with a creamy alfredo. Either way, it's simply delicious!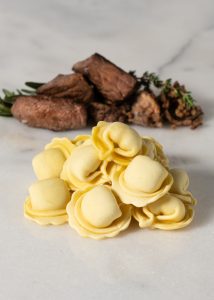 When you're craving something rich and satisfying, our Beef Tortellini is the answer. Did you know you can substitute Beef Tortellini for the dumplings in your favourite soup recipe?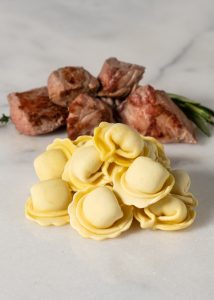 Our veal recipe is a family secret passed down through multiple generations. Enjoy the craft of our ancestors with each bite of deliciously tender Veal Tortellini.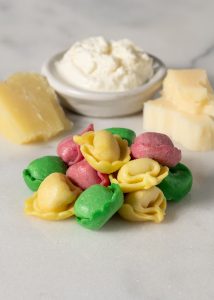 Tricolour Four Cheese Tortellini
Nothing makes jaws drop at a dinner party like a beautifully presented plate of tricolour pasta. Coloured with natural dyes to produce red, white and green swirls, these eye-catching morsels are stuffed with our signature four cheese blend.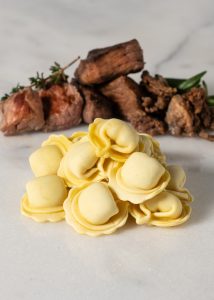 If you could put Italy on a plate, it would taste like our Classic Meat Tortellini. Filled to the brim with a premium mix of Italian meats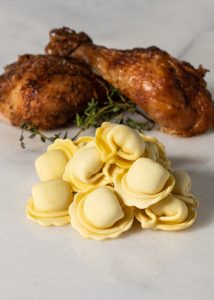 Popular with children, seniors and everyone in between, our versatile Chicken Tortellini go well with any sauce. We like ours with creamy alfredo sauce and a dash of garlic.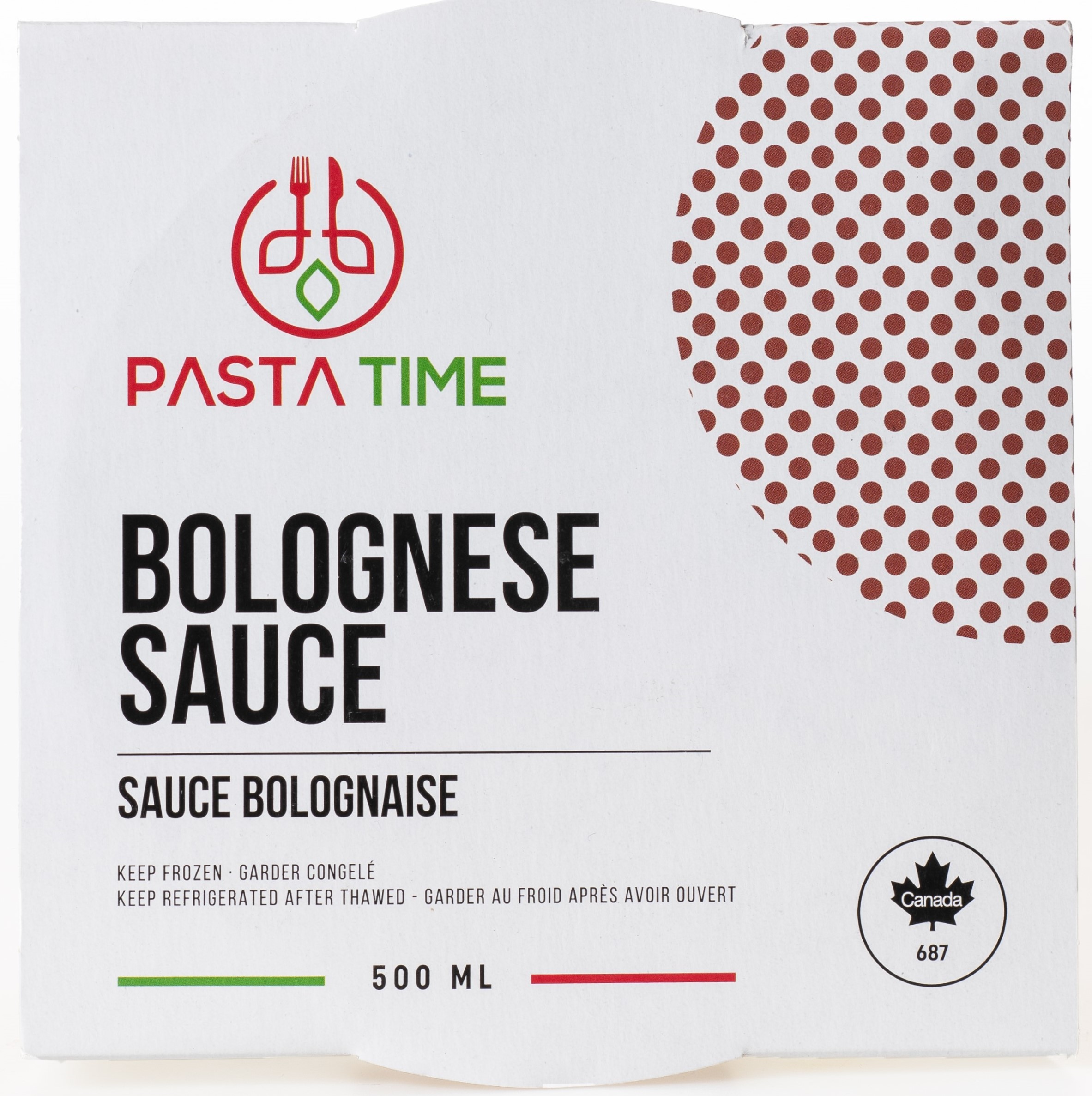 Every Italian nonna's pride is her secret Bolognese recipe. Without giving too much away, we'll just say that ours involves slow-roasted tomatoes and lots of fresh herbs.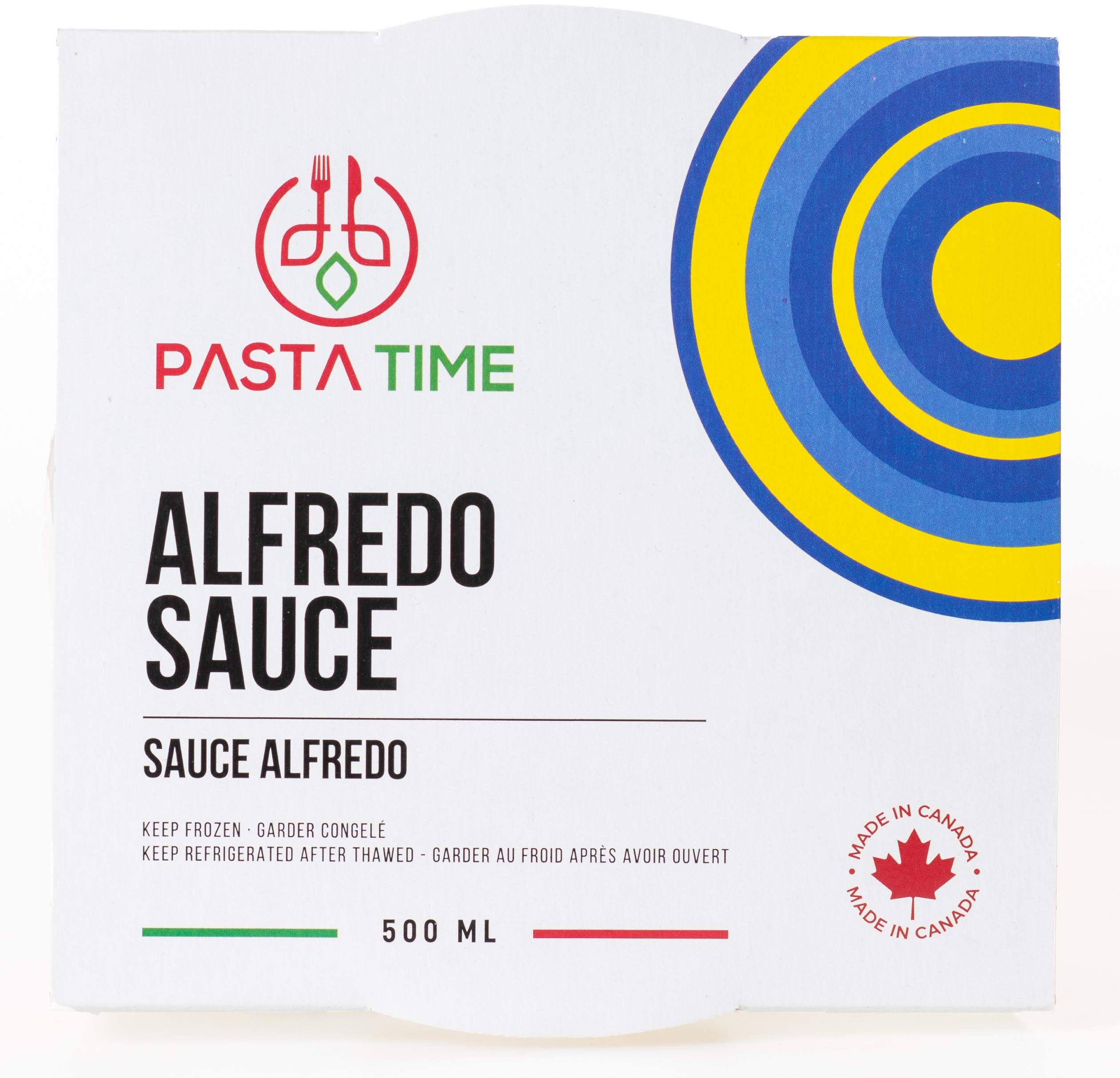 A creamy white dream on a plate, our silky Alfredo Sauce pairs well with chicken, fish, vegetables and cheese.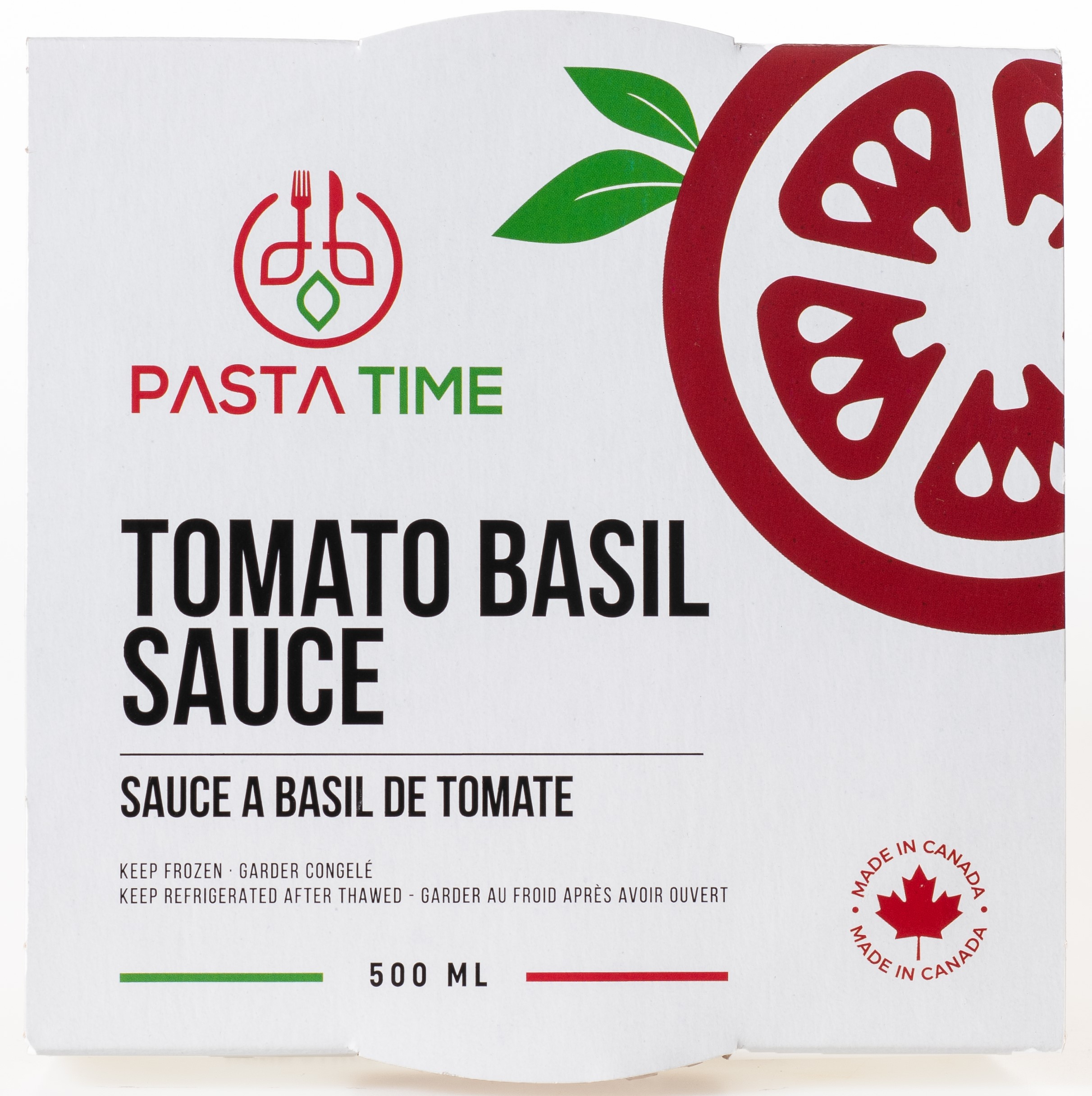 Fresh and herby, this punchy pasta sauce goes with just about anything you can imagine. Our pro tip – turn up the heat with a handful of chilli flakes.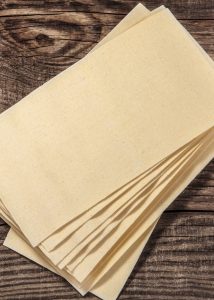 Impress the socks off your dinner guests when you serve a lasagna containing fresh lasagna sheets. For your convenience, our sheets are the size of a large foil tray, so no cutting is required.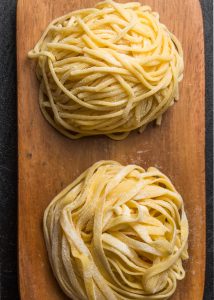 Our cut pasta is made fresh in small batches, using fresh whole eggs and Alberta grown semolina for perfect tenderness. Each bite will melt in your mouth!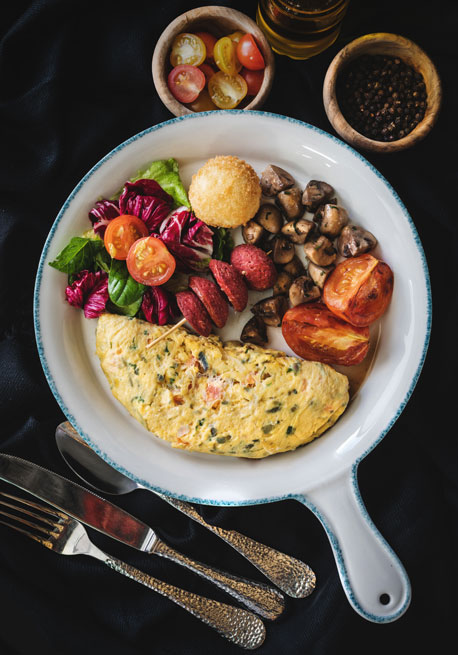 Sautéed Spinach
Netus integer minus fugit, animi accumsan adipisicing egestas aperiam
Roasted Butternut Squash
Roasted eggplant spread, marinated tomatoes with garlic & fresh basil 8
Crumbled Sausage
Rerum esse aliquid molestias diamlorem purus atque ante eget, nostra orci cum, condimentum euis
Vegetable Sauté
Eius nisl nihil corporis mauris debitis per aliquam laudantium officia ex

Bruschetta Classico
Roasted eggplant spread, marinat

Parmesan Bread
Ratione, nostrum mus hic harum aptent at quae sapien illo

Banana Waffles
Ratione, nostrum mus hic harum aptent at quae sapien illo

Cheese Garlic Bread
Roasted eggplant spread, marinat
Cottage Cheese Fusilli
Roasted eggplant spread, marinated tomatoes with garlic & fresh basil 8

Whole Grain Pasta
Roasted eggplant spread, marinated tomatoes with garlic & fresh basil 8
Love your tortellini, in every flavour I've tried!
The best ravioli in town! – My family loved this filling
Quick and easy when you get home from work. Goes great with pesto mushrooms and peppers